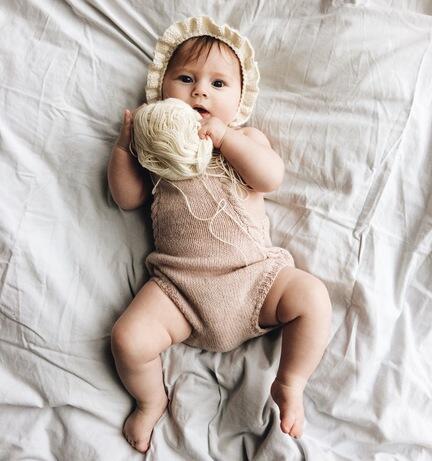 Edith's Romper (english)
36,00 kr.
THIS PATTERNS IS IN ENGLISH
The Little Edith's romper has finally got a big sister with long legs, and even though the small rompers are incredibly cute, it is even more practical when rompers have long legs. The popular cable pattern from the earlier romper pattern continues now all the way down the legs and create a unique twist to a rather simple romper. The romper can actually be worn all year round and is designed to fit both girls and boys. The romper is created with a slightly longer leg, so that it can be worn for quite some time. The sustainable alpaca wool will only get better from year to year, so the romper is a perfect heirloom, which can be given from child to child. In the booklet, you can find both instructions for the new romper as well as the original romper. Furthermore, you get an instruction for a matching hair band, which is knitted with the same cable pattern as the rompers. Happy knitting! Yours, Rikke Ørum
SIZES 0 - 3 months (4 - 8 months) 12-18 months (2-3 years)
FULL LENGTH Pants: 48 (53) 67 (77) cm Romper: 27 (33) 36 (39) cm GAUGE 23 sts in stockinette stitch on needle 3,5 mm = 10 cm
NEEDLES Circular needle and double pointed needles 3 mm and 3,5 mm (or the needle size you need for obtaining the correct gauge).
AMOUNT OF YARN Pants: 150 g (200 g) 250 g (300 g) Romper: 50 g (100 g) 100 g (150 g)
YARN RECOMMENDATION NO. 3 Organic wool/nettles (160 m/50g) Or Semilla (160 m/50 g) SUPPLIES 2 buttons for the straps