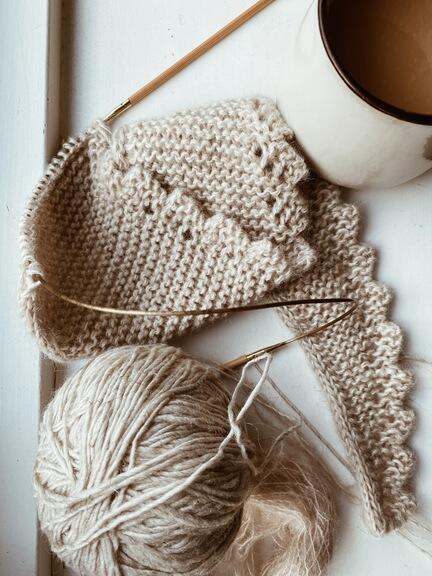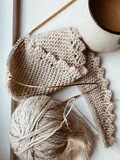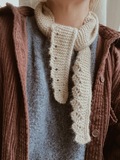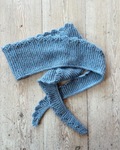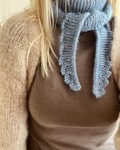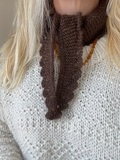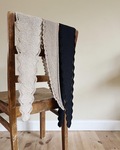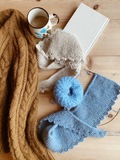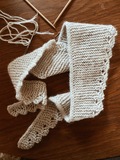 Nova Scarf (English)
28,00 kr.
INTRODUCTION The Nova Scarf is worked flat in garter stitch with an I-cord edge on one side of the scarf and a lace edge on the other side. It is knitted in three sections: A section with increases, a middle section and a section with decreases. You can find a video on YouTube that introduces you to the scarf and shows you how the scarf is constructed, how the start is made, and how the I-cord and YO's are done. The video is here.
SIZES: Short (long).
LENGTH: 90 (114) cm [35.43 (44.88) inches] (measured along the I-cord)
WIDTH: 10½ (9½) cm [4.13 (3.74) inches] (measured at the widest spot between the I-cord edge and the tip of the lace edge). NOTE: The long model is approx. 1 cm [0.4 inches] narrower than the short model, because the widest spot on the scarf is in the back of the neck in the short model, but below the chin in the long model.
GAUGE: 19 sts x 40 rows in garter stitch on 4 mm [US 6] needles = 10 x 10 cm [4 x 4 inches]
NEEDLES: 4 mm [US 6] circular needle 60 or 80 cm [24 or 32 inches] or 2 x 4 mm [US 6] DPN's.
YARN: For this scarf you will need a Light DK weight yarn ore a fingering weight yarn held together with a lace weight yarn. It is important to choose an extra soft yarn since you are going to wear the scar close to your neck.
I recommend 25 (50) g Carfiff Cashmere Classic (110 m [120 yds] = 25 g) but you can also choose a soft merino, a bamboo yarn or a soft leftover yarn form your stash as long as the yarn is comparative with the gauge of the scarf.